I have an article in the latest issue of Weird Tales! "A Sweet Disorder in the Dress" talks about Alexander McQueen and the surreal, subversive narratives he made with fashion throughout his career.

Fashion is a remarkable, flawed, Byzantine industry that sometimes seems like a group of really well-dressed wizards locked in a tower trying to decide what bizarre trend they can start next. There are innumerable political underpinnings, and the ethics and economics of it have vast and pervasive consequences. As someone whose main criteria for clothes is, "How close to pajamas is this?", I tend to look on it with costume-appreciative bemusement.

However, sometimes, fashion is also the platform for a true artist.

The Metropolitan Museum's Costume Institute is currently paying tribute to McQueen, and it's seriously beautiful stuff.






McQueen's dual passions - tailoring and narrative - meant both stunning and dramatic design:




And some amazing runway shows. For a fairy-tale inspired collection, "The Girl Who Lived in the Tree," he presented a series of costumes for his imagined cast - the feral, witchy young girl, the prince's retinue, the royal court.




He also had a macabre side, which emerged in his use of unusual materials and prints: a dress made of blood-red microscope slides, dresses made of game-bird feathers and headdresses of antler (for a collection grimly titled "The Widows of Culloden"), and a dress sewn through with live flowers that McQueen intended to be ruined by the wear down the catwalk.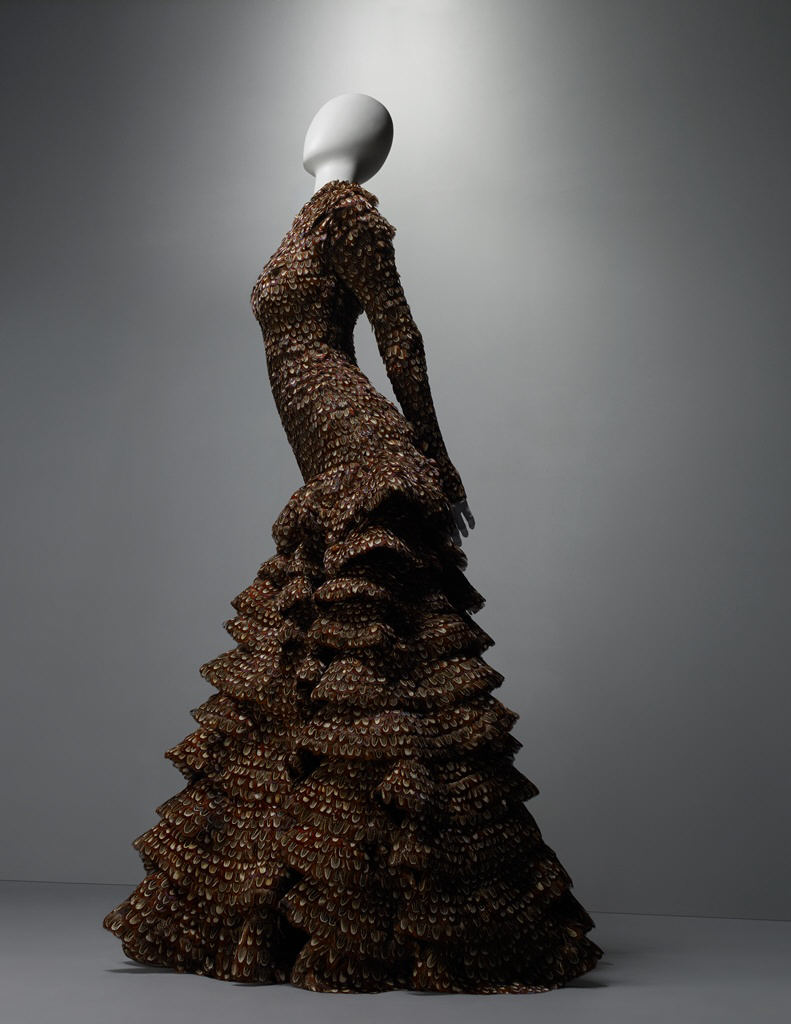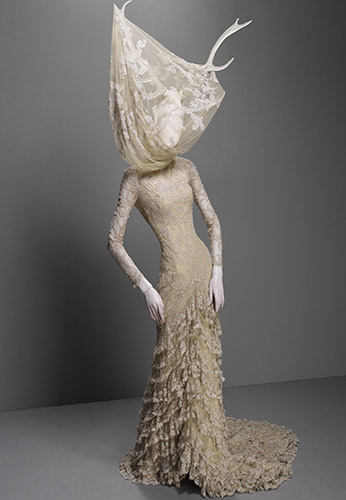 I could go on, but really, it's all worth looking at.

The expansive exhibit at the Met does a gorgeous job of collecting his work by theme, with room-specific soundtracks, display cases fit for taxidermy, and the occasional wind machine (that highwaywoman costume is not going to gust itself!). It was truly astounding to see his work up close; from both a technical and artistic standpoint, he was outstanding.



One of the rooms is dedicated to his runway shows, which I appreciated, since it's one of the best ways to understand the impact McQueen wanted his clothes to have. The article uses McQueen's 2009 "Plato's Atlantis" collection as its touchstone, but my inner movie nerd will always have a soft spot for his Spring/Summer 2004 runway collection, inspired in part by "They Shoot Horses, Don't They?" and staged in a Paris dance hall. The first half is glitzy eveningwear with models and male dancers paired up like ballroom champs, but the second half of the show stages a 1930s dance marathon, as a series of disheveled models stagger across the floor - or, in some cases, are dragged by their partners.

It's visually arresting, and it's unsettling, and the models inhabit the clothes as they do in few other runway shows I've ever seen. As fashion goes, it's genius staging; as art goes, mission accomplished.

The magazine is out now, in print or digital editions. The exhibit runs only through the weekend, sadly, but if you have the time, it's something worth standing in line for.