The holidays happened! I did things! It's not a long list: I went to Disney World for a day and that was pretty much the only thing, except that time I played tennis and my wrist hurt for five days because I am horrifically bad at tennis.
Disney World was the usual combination of overwhelming artifice and overwhelming sincerity about it, which I never quite know how to handle, and since I'm with family members who are both more and less into it than I am, I always end up feeling as if I've been very politely experimented on for some kind of very mild pop-culture illness and when they scan your fingerprint at the gate of every park (which they do, and it's creeptown), you're actually just being swabbed for later analysis about whimsy susceptibility.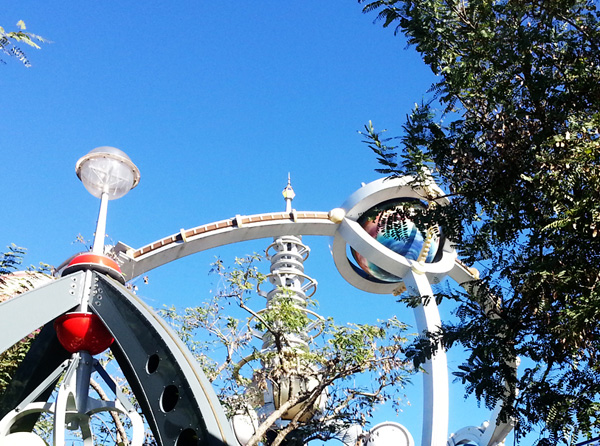 Sky hermetically sealed for maximum cerulean retention.
Good things included: The crane in Frontierland who watched someone pulling turkey off their turkey leg for a good five minutes, then spread its white wings like a photo-negative Batman, swooped down, and plucked turkey right out of her hand, which it proceeded to eat from a safe altitude while casting occasional looks at the woman as if it knew from experience that sometimes tourists climbed to the top of the trading post roof to get a bite of turkey back, and it had to examine that same possibility now, because you don't get that primo Frontierland turf without being the smartest crane in the room.
"Amazing" things included: The Carousel of Progress, which everyone describes as "quaint" when they tell you to go, and you think they mean the animatronics, but it turns out what they actually mean is that the guy who narrates you through the various time periods and their attendant technology is the world's most loathsome gentleman! Highlights include the part where he tells his protesting Edwardian daughter not to worry that she's in her underthings because these people are all Daddy's friends (actually happens), and the fact that when the lights go up on his wife, she's inevitably doing housework, most of which he makes fun of her for. Once she tries to get a word in, and he tells us, "Let me interrupt her interruption," with a pause for laughter, at which point some blessed soul in the back of the room went, "For real?"
(In a non-theme-park aside, the fact that I was literally the ONLY person I saw at either of my airports throughout the entire security procedure who voluntarily opted out of the scanner was sort of "amazing"? I was pretty sure everyone agreed they were the worst, but a guy in front of me actually broke off a diatribe to his friend about how gun control was an invasion of privacy to step inside the scanner. Also, since the last time I flew, they have apparently instructed the agents to question why you're opting out in an attempt to shame you into going through, so really I got to fly in a plane AND do Bartleby the Scrivener one-man shows in the airport, so, bonus?)
Actual amazing things: Maelstrom. The crowds were relatively light, which meant our longest line of the day was less than half an hour, and was for the Maelstrom ride in Norway, which signs warn you repeatedly is an action-packed adventure of nautical derring-do including waterfall and going backwards and just BE READY FOR NORWEGIAN ADVENTURE, OKAY? THINK ABOUT YOUR WORTHINESS FOR THIS QUEST ON THE NORTHERN SEAS.
It was really a four-minute ride through vaguely Norwegian vignettes, getting word salad about Norway piped through speakers at 85 decibels. "Adventurers in the spirit of exploring things and maybe living there! Polar bear arctic times! NORWAY." At one point, you slide down an incline about five feet high, slowly. Then you're in a fishing village and the ride's over even though the narrator is still talking get OUT OF THE BOAT this way please. Then they show you a movie about how awesome Norway is, including a group of businesspeople gathered around a desktop computer that has been carbon-dated by scientists back to approximately the year I was born.
It is all delightful, in exactly the way it sounds like it would be. It is the late-night Netflix instant queue of Disney World. I laughed very, very hard.
Now I'm back home, trying to wrap up the last loose ends before the year turns over, leaving me three days to do about a fiscal quarter of to-do list. NAILED IT.