Over at The AV Club on Friday, I reviewed The White Queen, the BBC coproduction now hopping the pond to Starz, where its ten episodes will acquire approximately 70% more butts than previously and make no more sense than it did before. (The first episode is a lump of setup punctuated by an attempted rape – great, thanks, helpful! – so I waited until today to tell you, because there was no need to tune into that piece of business. Play the long game and start with Episode 2.)

As seen above, The White Queen is actually about three queens – White (Elizabeth Woodville, queen to Edward IV), Red (Margaret Beaufort, mother to Henry Tudor), and the Kingmaker's Daughter (Anne Neville, queen to Richard III). Covering thirtyish years, it tracks the later years of the Wars of the Roses, from Edward IV's reign through the huge mess that followed straight up through the rise of Henry Tudor (huge mess that followed that not pictured).

The acting, I was happy to report, is pretty awesome! When presented with 2D lemons, some actors know how to make lemonade. (Some weren't even given lemons, they just had to make lemonade from dirt, but it's not their fault.) And the cinematography had some lovely moments; there's a shot of Margaret Beaufort crumpled on the floor of a church that might be my favorite so far.

The rest of it was dicey. Unrelated news, let's talk costumes.






You can't see in any of these, but at least one of these dresses has a back zipper. Looking at them all, it probably doesn't matter which one.

Good news: there were the huge artichoke jacquards that were all the rage in the mid 15th century, and every so often you'd get some hanging sleeves. There are even occasional chemises, though never in conjunction with a dress being worn on top of them, obviously, because what is this, a museum? But somewhere there is a mood board about these costumes that had the right idea. (They're all terrible now, of course, but we'll get there.)

It's well-documented that historically-inaccurate costumes make me pretty sad inside. The Tudors did not help anything. However, even when writing about the Tudors I noted how much more accurate the men's costumes were than the women's. Let's talk about that.

The thing about costumes that make them look wrong even if they aren't wrong is lack of depth. Not even speaking historically, think about dressing someone for an autumn scene on TV, shot waist-up. Tee or button-down? They read differently. Sweater? Blazer? What's the difference in character between sweater and blazer? What sort of person wears both? Neither? Is there a scarf? Jewelry? It creates meaning, depth, the feel of a wardrobe that's lived-in. ("What sort of person wears X" actually covers 99% of aspirational clothing marketing, if you think about it, which is an essay for another time.)

Joan Watson's wardrobe is one of last season's best cases in point of a character who would have read completely differently if put in a suit, a post-Scully killjoy; instead, her chosen wardrobe of chunky heels, cropped pants and drapey jackets, in a mix of designer duds and things on sale at the Gap, dresses exactly the character you'd think it's dressing.

Now, the picture. One of the reasons the men in period pieces tend to look more accurate overall (or at least more expensively incorrect) is that their wardrobe is at minimum a two-layer affair – shirt and doublet, often belted, adding another texture and the sense of utility. And if all the men in this photo were lined up and supposedly of equal importance, you'd still look at Edward and Warwick, because their outfits have the most texture and depth. Particularly James Frain as Warwick, who must be desensitized after The Tudors and is wearing a shirt and a doublet and some extremely fashion-forward puffed breeches and some gloves and a sword belt and a fur-trimmed cloak and, I am certain, a hat he took off just before he left the house so it wouldn't look too busy.

Next to this, when the women get a one-layer dress with an obvious inset, it's going to look flatter. It looks flat as hell. Nearly every woman here is in a single-layer dress. The women who rate coats (depth, status, utility) look infinitely more at home. And Margaret Beaufort, though her clothes are more austere and masculine than would have been in vogue, or even practicable, for a woman of her stature at the time, seems more real in her kirtles under narrow coats than the queen and her ladies in their one-layer tacked-on finery. (It also doesn't hurt that she's the one character for whom clothing-as-character seems to have been considered; they're a reflection of her own austerity and single-mindedness.)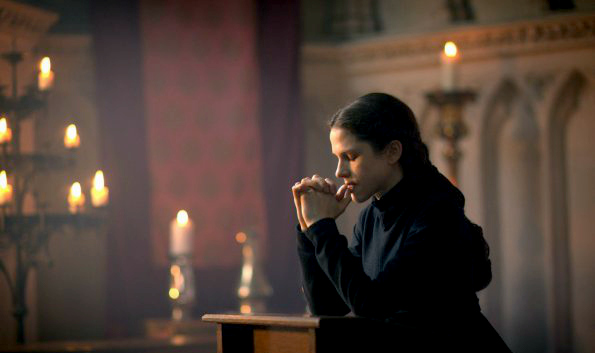 Anne Neville, on the other hand, is at a major disadvantage in every way it's possible to be. She got totally hamstrung in her characterization, often from scene to scene (she's naïve! Wait, she's ambitious! Wait, she's surprised she's meant to be politically married even though that was laid out in her second scene ever, many episodes ago! Wait, no, now she's a cutthroat usurper! Wait, now she's an impulsive ninny! Wait, now -). I saw through Episode 8, by which time she's apparently the source of all the questionable things poor honorable Richard ever did in his life to get the throne, because being king was something that had never occurred to him even once ever before she suggested it.

But in case we needed another reason not to like old Anne Neville, let's take a look at her fancy dress.


Out-of-control history tangent alert:

The portrait of Anne Neville at her coronation in 1483 is literally cloaked in symbolism, so it's hard to make a determination as to exactly what she wore underneath; it's possible she was wearing a fur-trimmed sideless surcoate, which was a ceremonial garment that can be seen in the depictions of several contemporary noble/mythical weddings. In everyday life, the 1470s and '80s were a transitional era with a mishmash of influences from Northern Europe. In a very general sense, the wide-sleeved houppelande was fading out of fashion, and the times were trending to an overdress with tighter sleeves, a trapezoidal skirt, and often a fitted bodice (looser, front-pleated bodices were also popular, but it stands to reason that the less physical work one had to do, the tighter one's bodice could be). Sometimes there were seams at or below the natural waist, but the dress could also be cut in a single shot, shoulder to ground. An extant portrait of Elizabeth Woodville from a few years before Anne's coronation is a black kirtle (or stomacher) under a black gown with a swooping low-v collar and matching cuffs in gold and black. The waist is covered, so who knows how she went on that.

Of course, for poor old Anne Neville, the location of the waist seam is sort of the least of her problems. In addition to all the historical inaccuracies (those sleeves I can't even talk about, rope trim from the upholstery section glued on to the neckline and the sleeves I can't even talk about, the saddest stomacher in the world that has somehow moved outside the dress, which is pretty much the opposite of what a stomacher is), it just looks flat; the stabs at contrast don't create any richness or depth, so it's all the trouble of an undergown with none of the payoff.

(Also, this is the same dress she's wearing when she marries the deposed rival heir Edward of Westminster in the early 1470s. In France. Congrats on hanging on to it through a boat crossing and a battlefield, Anne! I bet everyone loved that symbolism when you walked up the aisle at Westminster to be crowned.)

And while this miniseries suffers the usual historical-costume slights across the board – including bare heads everywhere, a particular crime because this was the age of the hennin, meaning you could finally whip out hats that looked like ram horns with veils on top, and you missed your chance! First no chemises, then zippers, then this! – the real crime is in their dullness. There's nothing of Anne Neville in that flat gold dress; there's no one at all.

Perhaps most oddly, this overall Lacking wasn't a problem of everyone getting one good dress and a few subpar backups, or some characters being consistently better costumed than others. Instead, it was something of a chronological slide, where earlier costumes were at least waving in the right direction, and slowly start to slide into a general sartorial handwave (leaving Anne Neville, whose status one might want to track with costume changes as she goes from outcast-queen-presumptive to captive to Duchess to Queen, in one gown, with the gold one presumably stuffed underneath for special occasions).

By episode 8, this is the level of costuming we're dealing with: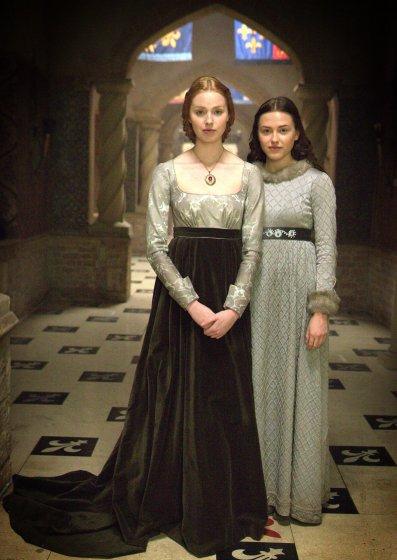 That is a miniseries that has given up. (Windmills do not work that way, goodnight.)

That doesn't mean you should give up! I made it through eight episodes for the AV Club, and intermittently enjoyed myself in almost every episode after the first one, if for no other reason than watching some of the actors elevate their material. The fact that they did it in costumes borrowed from the Springfield Community Theatre costume closet is just one more mark in their favor.

In related news, REIGN starts soon on the CW, so we get to watch Mary Queen of Scots in a sleeveless ballgown! Expect a post about THAT business.