Okay, this week is just one of those weeks where I'm everywhere else but here, I guess! I hope things will settle soon, I want to talk about museum visits (YOU DO TOO WANT TO HEAR ABOUT THOSE).

First up today, I reviewed Anne Leckie's Ancillary Justice over at NPR! I really enjoyed it; you might, too.


And for something else we hopefully all enjoy, the Mills sisters and their British archivist/witch-liaison Ichabod Crane took to the streets this week to hunt down some members of a Horseman-related cult!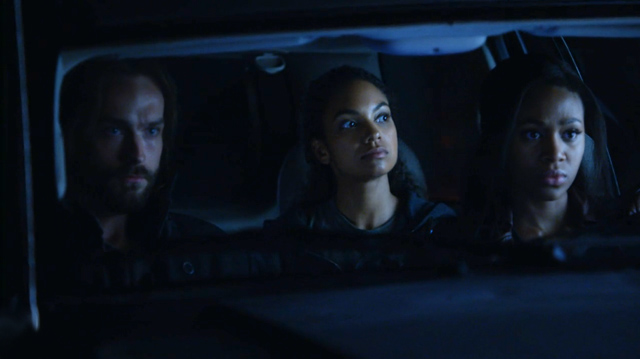 It's not awkward at all!

At least Ichabod can be even more helpful than usual from now on, because the NorthStar car-assistance lady taught him how to unlock car doors, so he is on top of that business now.

And you know, this show handles its cheese with gusto, and is remarkably sincere about Abbie (and now Jenny) and their emotional journeys - I am cautiously optimistic that, given what we learn this week, Abbie will meet with the ghost of Sheriff Clancy Brown again. But one of the things I enjoy most about the show is that Ichabod's obligatory man-out-of-time humor is so often charming or sweet rather than pratfalls; he's a man who's able to try to figure the world out without getting constantly angry that things are beyond his ken at the moment. This particular gag actually gets funnier the longer you think about it: How much did he tell her while trying to explain the nature of his emergency was "cannot operate a single thing about a car except the window in a sheriff's cruiser, please advise"? How long were they chatting before romance came up? Was she there for half an hour explaining internal combustion and finally just likened it to a quickening of the heart? That answer, of course, is yes.

Second-best question-provoker this week: this newspaper clipping. Did Jenny keep it to stoke her resentment, or did someone seriously rude put in her bag?


"Area residents report never before being so proud of their well-adjusted young sheriff; Mills said she's excited to serve the community, and plans to celebrate by going outside all the time and staying up as late as she wants to at night."


My recap, with obligatory weekly moustache, is up at io9!
Sleep