(They're related. Sort of.)

Last week was so wild I don't really have a circadian rhythm left, thanks to some overnight shifts at an outside gig and a handful of state lines back and forth in under 48 hours for a wedding.

I also managed to get to ComicCon for the Steam It Up! panel on Friday. It was a great turnout – thanks so much to everyone who came! – and though I Had Opinions About Steampunk as per usual, things seemed to go well, particularly when someone asked how we'd know steampunk had really made it, and I got to point out that Dracula was premiering October 25, so a steampunk TV series on a major network was proof positive we were sort of already living there.

And oh, I am READY for that show. The only thing I am readier for is Reign, and that's just because it premieres a week sooner. We'll be talking about both Dracula and Reign tomorrow in a costume post because I honestly can't wait until they premiere to talk about them (I tried, I've failed), but in the meantime, just know how gleeful I am about a show that swears it's set in "the late 19th century" and then has a woman of marriageable age wearing this:




Mina Murray: American Girl Doll and/or Modern Brooklynite. Show, you're a gift. See you tomorrow.


What's happening today (or, rather, what happened last night) is Sleepy Hollow! This week was the Pestilence Intro and a little dollop of the Ichabod Crane Nostalgia Hour, as he has an apparent chance to enmesh himself in the Roanoke colony, though they are all affected with plague and in an alternate dimension, so there's not really a lot of perks to that idea. Instead, what we really get is Abbie's realization how much she's already come to trust him – even need him, particularly in their current circumstances – and a moment at the end where it's clear he'd considered the idea quietly and then quietly rejected it for her sake. It was a short beat (they were probably running late to report to Skinner's office), but the emotional stakes are ticking up! Sadly, this doesn't apply to Katrina, who was frittered away for five episodes and now has to claw her way into the storyline in the back six. Good luck, everybody.

And this episode's plague wasn't particularly scary. There was just too much going on to get into a lot of jump-scares, and sickness is signposted as frightening enough without needing a bunch of shock shots. We do, however, give Pestilence plenty of face time - chasing little Billy Peril out of Roanoke, hunting down Abbie and Ichabod, and this surreal and symmetric puppy, as the plague's doomed victim sees Pestilence coming right for him: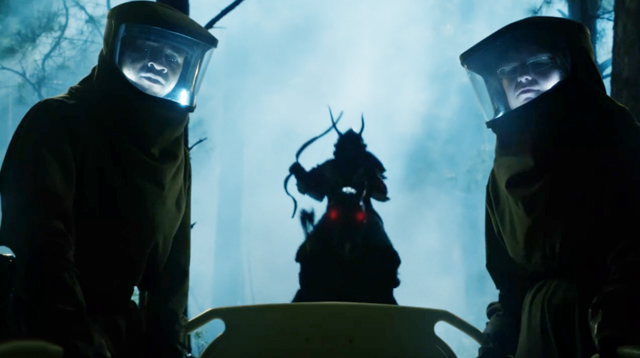 (Oh yeah, Pestilence is a samurai? I don't know what to tell you. I've got a little side-eye going on about it.)

I have zero problem with this; I don't want exploding sand-eyeballs every week, honestly, so I was fine with black-vein-itis as monster of the week. And that frame is pretty fun; Sleepy Hollow isn't the most cinematic thing on TV right now, but you can't say this show doesn't know how to use the camera. It makes particularly good use of the prettiest available things – the scenery:




And Nicole Beharie's face:




This is right after she realizes she's taken refuge from her boss in the hospital chapel, and is trying to decide if that really is a sign she should pray for help for the plague-stricken Ichabod, or if this is just another in a long line of Nopes that she doesn't have time for. She turned down a Roanoke flower already, she's all warmed up for not taking any nonsense. Good job on the face, Beharie.

And as always, my full recap is up on io9!