This week, the Regency! The producers make Giles and Sue siblings, which means they act like marrieds anyway. Featuring the loss of their fortunes, repeatedly!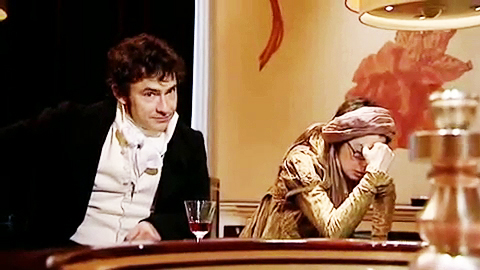 You must allow me to tell you how ardently I admire and love you. (Sue. Giles happens to be present.)
VITAL STATSEra
: Regency
Chef Grade:
Rosemary Shrager, A cheffing, even in the midst of defeat by aspic.
Best Guest:
Either Village Lady, or everyone at the Vicarious Embarrassment Holiday Party and Ball.
Best Food Moment
: Parmesan ice cream!
Worst Food Moment
: Cheese with live maggots in it, judging by the way Giles flaps his arms.
Equality Now!
: Sue can't hold property! She'd better get her ass married.
Worst Thing Giles Says
: Somehow, in an episode that includes him reading from a literal prostitute guidebook, the thing he can't let go of is the size of George IV.
Best Sue Thing
: Sue's marriage mission to the pub, armed with her looks and the language of the fan.
Moment Giles is Most in Love with Sue
: Driving a sports car with her. He's easy to please.
Most Random Moment
: Sue goes through a Regency beauty ritual that leaves her in tears.
ASPIC.
Yep.
Quote of the Week
: "Jane Austen probably licked those eyes."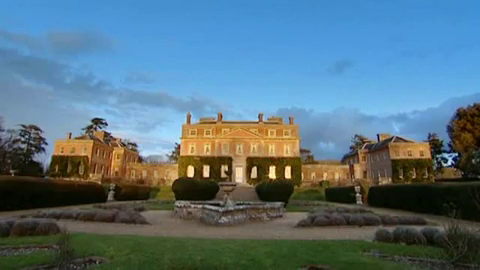 (
To Kellynch!
Collapse
)
It is a truth universally acknowledged, that a man in possession of historical foodstuffs must be in want of someone willing to eat wine-soaked rarebit at 10pm. That means another Supersizers, because nothing looks as good for sore eyes as two Brits trussed up in chokingly-hot layers and poking at various potted meats, am I right?